Optimising your SEO content is one of the first core building blocks in your SEO strategy to ensure you are bringing in traffic organically. Spending time on your web content can help you build up authority in search results, but first, you need an understanding of relevant search queries that match user search intent.
One step too far? Okay… let's rewind a bit.
Billions of dollars, pounds, euros (insert relevant currency here) are spent on lead generation, without even considering the power behind search engines. Search engine results pages are among the first places people go to find the things they need, so it makes sense to capitalise on this space.
According to Similarweb, Google is visited more than 83,9 billion times in one month. That's to commit to a search and potentially find businesses, products, or services just like yours.
Capitalising on this cannot be done without SEO copywriting. Read that again.
Think of it as invaluable real estate where you can meet your target audience, provided you have the right SEO content strategy in place. So, how do you get that part right? Here are a few ways you can bring in organic traffic with the help of better SEO content.
PS: you will need a content writer for this, better yet… an SEO content writer. Hit us up if you don't have one.
Your SEO Content: A Good Place To Start
When it comes to SEO, we always circle back to SEO content. It needs to be at an optimal level in order to even rank on search engine pages. To increase valuable inbound traffic, improving your SEO content is the first port of call, and there is always work to be done to refine this.
As competitors upgrade their SEO copywriting in alignment with target keywords, search engine results will start and continue to shift. Staying on top of your search engine rankings is an ongoing love affair and it's 100% worth doing.
But, firstly, what do we mean when we talk about SEO content?
What Is SEO Content?
Creating content for search engine optimization purposes is known as creating SEO content. It refers to content produced by an SEO content writer to improve a business's ranking on search engine results pages (SERPs). This form of digital copywriting has its roots in an SEO strategy, and it can take the shape of blog posts, website content, white papers, digital PR, and more.
After doing the necessary research into keywords that people use to find businesses of this nature, an SEO keyword strategy is born. Research is also conducted around what competitors are writing about, as well as what is current in the business niche. The end result is a list of keywords or keyword research. The SEO content writer uses this information to optimise each page of content for a primary keyword, possibly a secondary and tertiary keyword too.
The content itself focuses on matching user search intent, the experience of the reader, and the expectations of search engines. Weaving all of this together with keywords. This is where the skill of the SEO writer is put to the test. It's a fine balance that ultimately needs to please both users and search engines.
SEO writing that performs on all fronts is ultimately going to have a better chance of being visible in search rankings. If it matches user search intent, it's also going to drive a better click through rate.
So, is your content built for SEO? Does it fare well in SERPs? Has your SEO writer nailed it?
How Do Search Engines View Your Content?
If you already write content for your website, you'll need to plug in the means to measure your current success. Make sure you've got Google Analytics (or GA4 – not a fan, but it's where the future is headed by July 2023) and Google Search Console set up and linked to your website. You'll need both analytics and Search Console of to analyse where you are and help you define where you're going.
There are thousands of other exceptional tools and other sites that can help guide the process in relation to content writing for SEO. We will stick with the basics for the purposes of this blog post. These tools are free, accessible, and really easy to use too.
Use analytics to validate how much web traffic you're currently attracting.
The best way to get more traffic is to identify what's already working and what needs to improve. Using Google Analytics, here are a handful of ways to check in on the existing success of your web pages:
Go to Acquisition -> Overview

View the metrics under Organic as a channel to see how organic search is already performing for your content
If Organic is already showing up as one of your major sources of traffic, you are probably publishing some high-quality content

Drill down a little bit further by clicking on the Organic Search channel

Here you can see how many Users are engaging with your content
How many Sessions are triggered?
What is the average Bounce Rate is for your organic leads?
Pages Per Session and Average Session Duration

These are all valuable as they indicate the current behaviour

You can view which pages are bringing in more organic traffic by navigating to Behaviour -> Site Content -> Landing Pages

Which pages are receiving higher click through rates?

Below that, view Exit Pages to determine where users are leaving your site
There is a whole world within Google Analytics that can help your marketing team better understand the benefit of content created. The above barely even scratches the surface and will be replaced by GA4 soon. However, that in itself is another blog post all on its own.
Use Google Search Console to understand how specific keywords are working for you.
Before you kick off the content writing process, validate how SEO-friendly your existing web pages are by viewing the Performance section of Search Console. Here you will get an idea of how each target keyword is performing on your site. You'll also see which keyword phrases are driving traffic, and which web page(s) command the most attention.
You can research keywords based on this information, and find appropriate keywords to match the user intent already in play.
From your main dashboard view, click on Search Results under the Performance section heading. This shows you the general performance of your content. It is based on a sample of content over a period of time showing you the following details:
Total Clicks – how many people have clicked from Google to your web pages?
Total Impressions – how many times were your results viewed in the SERPs?
Average CTR – the average click through rate when combining all of your content writing efforts
Average Position – your average position in search, based on the results of all the keywords in this sample
Scroll down further to see the performance of each target keyword in the sample. You can also view your highest-performing pages, geographical insights, etc.
With the right tools in place to measure the performance of your SEO writing, let's get into the specifics so that you can start to write content that matches search engine optimization best practices.
The Build-Up To SEO Writing
Why do you even want to write SEO content, you may ask? The most obvious reason is to get picked up by search engines, but there is more to it than that. Think of Google as a business – because it is – that has its own share of business requirements. They have shareholders and growth targets, and ultimately want to meet and exceed their business goals.
Their primary purpose is to serve a user with the appropriate web page to match their Google search results. Simple. They want to direct traffic to the most relevant source of information relating to a keyword.
Effectively, their job is content promotion in alignment with search queries. In order to help them meet their goals, we offer up SEO writing that matches these search queries. Essentially, an SEO content strategy is designed to match what search engines want by creating what users need.
So, what is the basis of any SEO writing deliverable worth its salt? Researching the right keywords.
Conduct Research Into Keywords Before Writing Content
As much as your target audience wants to receive useful results related to their search queries, search engines want to deliver those results. To help them do their job effectively, you want to make use of relevant keywords that already match their intent.
The most ideal selection of keywords will have decent search volume (as in, people are already searching for them) and low competition (as in, fewer people are trying to optimize their sites for them). But this isn't the only gold standard for choosing your keywords. The only way to find the relevant keywords is to do the appropriate research.
Make use of different tools to find the right keywords to guide your SEO copywriting process. There are so many on the market, some which are free:
And then some paid research tools too that give you loads more for your bucks (so many more than this, just do a Google search for "keyword research tools"):
Start with a seed keyword and begin the exploration. If you're doing this exercise on behalf of a client, get them to jot down ten words that they think people would type into search engines when looking for their products or services. All you need is a starting point. From there, you can lose yourself in the depth and breadth of keyword research.
Finding The Perfect Keywords
Deciding how to structure your SEO copywriting can be informed by the target keywords you use. Once you have your starting point, start to dive deeper into each keyword to make the most optimal selections.
Analyse the existing search volume for each keyword, the higher, the better, but that's not the only factor to consider
Review how easy it will be to incorporate into content writing. If it's impossible to work around, look for something a little softer
Is it a keyword that every competitor is using? If so, look for the keyword gaps and opportunities in between
Use a combination of short and long tail keywords and rope in geo-location too, if it's something that's relevant to your business. That way, you can diversify your keyword strategy
Organising Your Keywords
Once you have a list of keywords (long tail, short tail, geo-located and everything in between) that are relevant to the business, the niche, products, services, features, benefits, user needs, and more, your SEO copywriter is ready to take over. Using a sitemap of pages that need SEO copywriting, a target keyword will be assigned to each page.
What are long tail keywords, you might be asking? Keywords that are an expanded version of your seed keywords (probably short tail keywords) that give more detail about the page, product, or service they are describing.
For example: a short tail keyword in this context is copywriting or SEO copywriting. A long tail keyword that expands on this context would be copywriting services in Falmouth or SEO copywriting specialists in Cornwall. Capiche?
Gain Insight Through Your Competitors
We all know the old adage, keep your friends close and keep your enemies closer. The same could be said about your business. Aligning your SEO content with what is working best for your competitors is not a practice to frown at. You can gain valuable insight from your competitors and tie it into your content strategy. This is especially valuable if your competitors are authority sites within your niche.
Take notes from their content writing and formatting
What keywords are they targetting and how are these performing?
Analyse their landing pages and calls to action
Analyse their blog posts to see where they're performing best
Are they writing about awesome topics that readers find engaging?
They might be targetting useful keywords you may have missed or they might be informed on up-and-coming trends that you can utilize in your SEO content. Making use of other sites and other resources to firm up your own strategy is good practice.
Use The Related Searches Feature
One of the most helpful features Google has to offer, to both the user and yourself, is the 'Related Searches' feature at the bottom of SERPs. You've definitely seen it but might not know what it is. When you type in a search query and Google gives you a bunch of other options that you might like? Those are based on other popular search queries, and some of them might add more value and relevance to your strategy.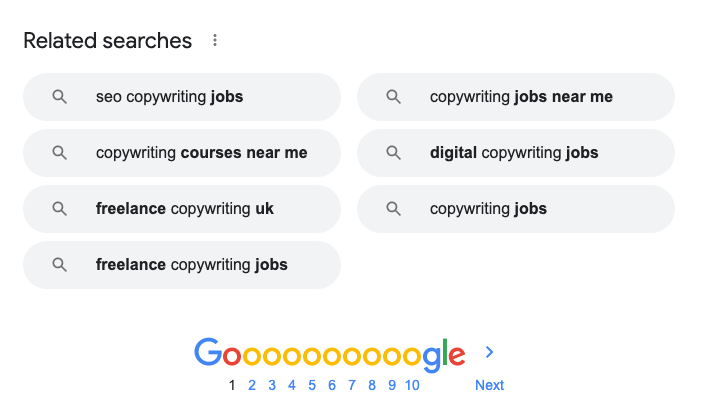 Getting Into The Content Creation Process
SEO writing is part of the on page optimization process, which is a buzzword you've probably heard. It is a sum of many parts that work almost like a checklist of your SEO copywriting to-dos. Here are a few tips that will help you make the most of your SEO content, but before we get into that… these are the absolute must-have items for each page:
SEO-friendly URL, preferably including keyword
SEO-friendly title tag, including keyword
SEO-friendly meta description, including keyword
Persuasive headline, including keyword
Powerful introduction, including keyword
Images with alt tags, including keyword at least once
Properly formatted content that is easy to read
Start With Your Meta Data
Each and every page you create must have a title tag and meta description created as per best SEO practice. If that's the one takeaway you have from this article, let it be that. Often, it's the thing an SEO copywriter will spend the most time on. In saying that, an SEO-friendly URL is useful too. These key ranking factors and prime pieces of real estate are what Google will display in the SERPs, so make them count.
When you share your content on social media, your meta data (title tag and meta description) will be the snippet of information that is pulled through into your post. Again. Make it count.
If you find that you're creating content, it's being viewed (ie: you're getting loads of impressions), but no one is actually clicking on your results… go back to your title tag and meta description. Review them. Rewrite them. Ensure they meet the following requirements:
They are keyword rich
They are relevant to the page in question
They describe the content of the page beyond the click
They drive a user to want to take action or find out more

This is usually the job of the meta description
Think of the title tag as the attention seeker, and the meta description as the back up source of information, giving you the "need to know" elements before clicking through
Need To Know – Title Tags
Title tags are the most important ranking factors that contribute to the success of the SEO copywriting process. Did we already allude to that? Well, it bears repeating. Create them with purpose and intention, getting into the minds of your audience and matching what they'd be looking for.
Use your keywords intelligently without keyword stuffing
Aim for between 60 – 65 characters with spaces and make full use of this space
Use your primary keyword upfront
Maintain consistency in the appearance

As in the separators you use, and whether or not you add the brand at the end
Are you using title case? If so, stick with it across all pages
Need To Know – Meta Descriptions
Meta descriptions are an opportunity for you to elaborate more on what your title tag is expressing. They are a summary of what the page is about and offer up space for a call to action. Spend time on these to ensure they introduce your content effectively.
Use your keywords within your meta descriptions

You will have more space and can potentially use a primary, secondary, and even tertiary keyword

Aim for up to 160 characters with spaces
Scatter the keywords throughout the description so that it flows naturally
End with an appropriate call to action that will drive users to click on your search result
Keyword Optimization
Including the relevant terms in your content is an art form that requires a balance of keyword density, relevant placement, and natural sentence structure.
Aim to include balanced keyword density in your post, paying attention to placement in the following areas of your content:
Title tags
Meta descriptions
Main heading of the page – your heading or H1 tag
At least one sub-heading – H2, H3, or H4, etc
A few times within your body copy without keyword stuffing (ie: squashing keywords in for the sake of simply including them)
In your image alt tag
There are other placements you can consider, but that will get you going with a quality piece of SEO content. But before we wrap things up… what are heading tags, you may be asking?
Heading Tags To Organise Your Web Content
Headings and sub-headings are a natural way to split up your SEO copywriting and organise your content. We use HTML to format the content so that Google can prioritise which bits are more important than others. Using heading tags – called H tags – we create a hierarchy and flow of content.
Need To Know – H Tags
Each page only has one main H tag – H1

Your primary keyword should appear in the H1 tag, which should be the page's main heading

Sub-headings should be made up of tags from H2 downwards and they should be used in accordance with the level of content

Main sub-sections should be led by H2 tags
Sub-sections within those should be led by H3 tags downwards

Include your keywords in the H tags, where possible
Most content management systems like WordPress and Wix allow you to format your content using H tags without needing to know how to work with HTML
Create Meaningful Ongoing SEO Content
Now that you've got the basics down, you can go forth and create meaningful SEO content that relates to your niche. Include internal links that join your pieces of content together, and get a flow of awesome reading material together for your users. Creating blog posts on an ongoing basis is the juice that you'll be feeding your users to quench their thirst. In our opinion, this is the fun part! Think of each blog post as an extension of your website content and business.
Tie it in with your social media marketing plans and your email marketing campaigns to form a cohesive content strategy. It's a way to further validate yourself, your products, and services, while also building up a sense of trust and familiarity with your readers.
We advise putting together a complete content marketing plan that incorporates core pieces of SEO copywriting and multiple pieces of content that relate to that initial piece. Signals from social media platforms can contribute to the elevation of your content even though having social media platforms themselves is not considered to contribute to the ranking of your content. Social media is a way for your content to be found, resulting in getting more backlinks, which means sites link to your content because they find it valuable.
We trust that you've enjoyed this delicious introduction to SEO copywriting and we hope you use it to increase organic traffic to your site. Give the tips a bash and let us know if they make a difference to your visibility in search.
If you need a hand, let us manage your content for you.
This article showcases the effectiveness of an AI-led SEO writing tool that helps guide the content writing process for best results with search content practices. (we purposefully used USA spelling for optimize and optimization for this reason).
This is a service we offer our clients, and we'd be more than happy to extend the invitation to your content marketing team. If you don't have an SEO copywriting team let us take the lead.